Shelby always LOVED Halloween (well perhaps maybe I loved Halloween for dressing her up). Worlds. Most. Patient. Dog.
I can't recall when I started dressing Shelby up, but she was a natural with the camera. Always had the same intense look;  bordering murderous contentious, but she would get really excited when I would pull out the tiara or the boas so I refuse to believe she hated wearing the costumes. Maybe she just hated the camera. Maybe she had a typical female problem – does this outfit make me look fat? Is this a bad angle? Either way, Shelby had an entire bin of costumes since I would buy new stuff for her each time. I never bought the 'pet' Halloween costumes at Petco or Petsmart. I preferred to try and make something up special. Thus, I bring you – Butterfly Ballerina Princess.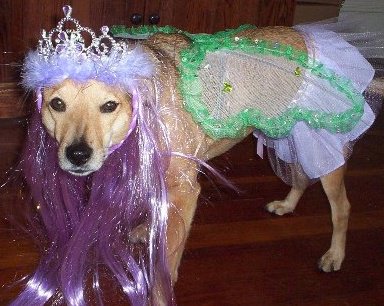 This costume (complete with wig) was modeled at a local pet Halloween party in Seattle. I still cannot believe she didn't win a prize for this.
One year she went (sadly no photos) as a marathon dog – complete with a little marathon tech shirt, medal and her blue booties (aka running shoes). She did win first prize at a local Yappy hour for that.
Other years, I would pull out my old costumes and put them on Shelby for fun.
So through the years … I present, my princess, the love of my life, the world's most patient dog … Shelby Lynne!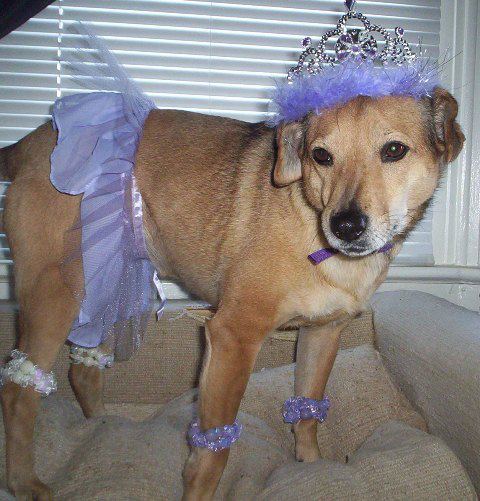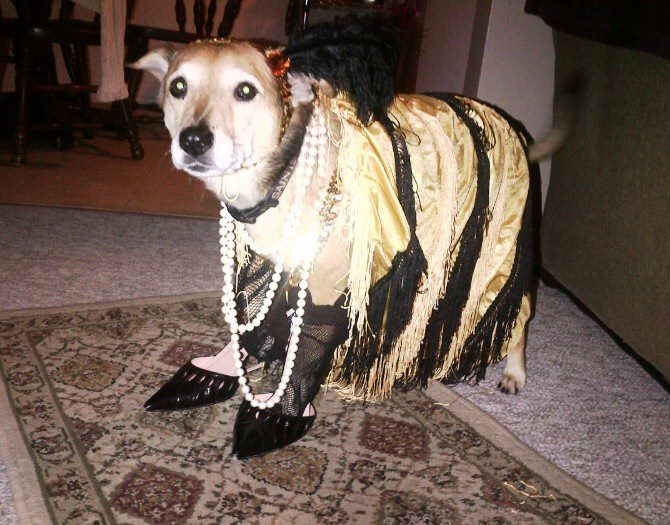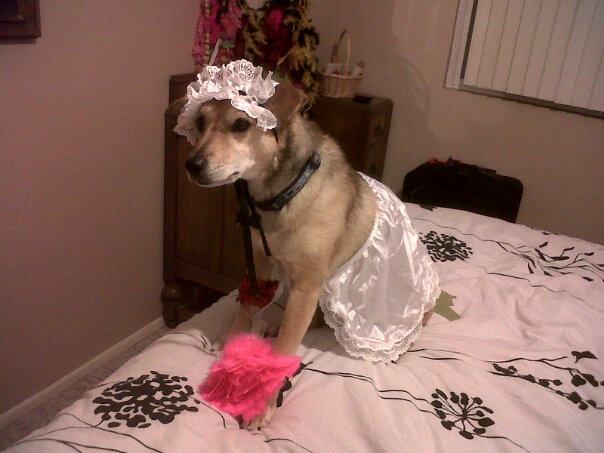 I miss those days … so much. So much more than I ever thought was possible. Shelby was always up for a quick hat or accessory. She was such a good sport. And it was fun. I was always looking for stuff at the dollar bin/store for her. I wanted to make each photo shoot more memorable. And people loved to see her photos. As much as people "threatened " to turn me in to the SPCA for animal abuse, I know people looked forward to Shelby's annual costume adventures.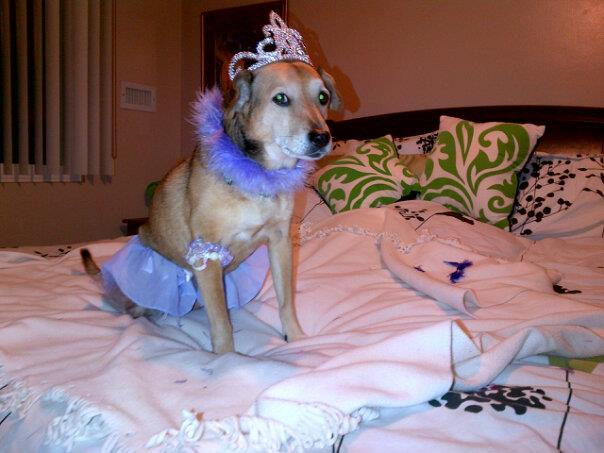 So Shelby's box of costumes remains under my bed… I haven't been strong enough enough to look through it or even touch it. I fear that if I open that box of sweaters, tutus, feather boas, glitter…the tears will start and they will never stop again. I have gotten to a place where I am sort of strong – 90% of the time. The holidays are fast approaching and I cannot avoid or even hide from them this year. I can't run away. I can try and create "new" memories but they only seem to remind me that the good times are no more. I miss that bond – that connection – that utter sense of eternal love and devotion that we had for each other. My soul mate. So I think that Saturday is the "day of the dead" and a time to honor our loved ones that have passed… so on Saturday, I will light a candle for my dear Shelby, toast to her memory with a glass of wine and pull out the tiaras for old time sake.
I love you, Shelby Lynne… always and forever … the the moon and back and for all eternity!